Let me start off with saying i am not a writer or a photographer. All the pictures are cell phone quality pics that i took along the trip. Decided to just tell the story of getting to wekfest from my POV.  Don't like the writing or think the grammar is bad? Good for you. You are more than welcome to correct all of it and send me a corrected copy.
So as many of you know, this is how my mr2 looked most of the summer.
The car was set-up for max grip. Rocking 295 30 18 Advan a048 (R compound tires) and 245 35 18 Toyo R1r Tires. I had signed the car up for Wekfest New Jersey long before i had completed this setup. Got accepted and put the whole thing in the back of my head. Well as the summer passed by i kept seeing old pictures of my car and kept craving lipped wheels again. Now i loved the grip i was receiving from the Te37 set up so i wasn't going to change anything.


Old setup i kept seeing pics of.
So fast forward to 3 weeks before wekfest. I start thinking about the trip and realize that my R compund tires will get destroyed on the drive there and back. Wasting about $1000 pair in tires. I had talked to a few owners that were making the drive to New Jersey with us to see if they had room for the wheels, but most were already carrying full cars with them. At that point my craving for lipped wheels came back. I decided i would switch setups for Wekfest.
For a week i contemplated what i was going to go with. Spent time under the car measuring the fender clearance/the inside strut clearance. Trying to maximize fitment to the fullest. Doing math trying to fit the most aggressive wheels on an sw20 to date. Of course i am sure a lot of you know Armands Car.

His S1′s were 19×12.5 +5 18×10 +5.
Now me and Armand talk to each other from time to time and he even recommended me a dope Pho Place in Cali when i was there. Never met him but i am sure ill get that chance one day. Well for those of you that don't know TRD widebody gives sw20 about 50mm more width over factory. My car was kind of a bastard child as i had pulled my fenders about 25mm all around over stock body. So it was kind of in between, fitment wise.
I shot Armand a message on facebook and we started discussing my plans. I told him what spec i was thinking of going for the front and rear. 18×10 +2 18×12.5 +2. Of course like any sane human he said most likely wouldn't fit. Using basic math, the setup just didn't make sense. His car was already pushing the limit and i wanted to go more aggressive with less flare. To me however this conversation seemed all too familiar. Flashback to a lil more than a year ago i had the same conversation with him regarding my old Sp1 setup on my stock body and he had his doubt on getting that fit. Now myself i don't like to accept No for an answer. So i decided to take on a challenge.
The next day i spent re-measuring everything. I measured the passenger side of my car over and over. Then decided to just go crazy and order some insane spec wheels. 18×10 -16 18×12.5 +2. Now at this point it was about 14 days before the show. Meaning about 11 days till i had to have the car done. I knew i would be cutting it close. Couple of days went by and i determined the tire sizes i needed and ordered some tires. I didn't want to go with an insane stretch where my bead may come off halfway on the trip. So i decided on playing it safe and running a 225 35 18 and a 265 35 18 tire.
Almost a week went by. My rear tires came in but my wheels and front tires weren't here. On Tuesday, 5 days before the show my wheels showed up. The front tires nowhere to be found. USPS had miss-delivered my tires to someone else. This put me in a really tight spot as 6am Friday morning was my scheduled time that i was going to leave Chicago. Come Wednesday night i looked around everywhere locally to find someone who had that tire size in stock. Finally found someone. Bought front Tires and had them mounted the next morning-Big Thanks to Adil @ Premier MotorWerks. So it's Wednesday around 1pm and i get around to throwing the wheels on the car. The front  with some minor tweaking fits perfectly. I feel great about my calculations. I throw the rears on and they poke way too much for my taste. I sit there confused trying to figure out what happened. Then i remember i had accidentally pulled one side a little bit more than the other on the rear. To correct the issue i had run a tiny bit more camber on one side to make it look perfect. Well I based my calculations on the side I pulled more at less camber. So this caused my math to be off my about 10mm. That's when i decided i would tear up my quarter panels and re-pull my rears about 10mm more. (making overall pull on rear about 35mm)
5pm Wednesday work began.

Working Till about 3am that night i finished the pull along with Fiberglas-sing and glazing the quarter panels. I wanted to shoot the primer the same day but fiberglass and glaze need time to cure in so later down the road air bubble don't come out. So i left the car overnight.
Went home and slept for about 3 hours. Came back to the shop and laid some primer.
Let the primer bake/cure for about 2 hours and started wetsanding. Taped up the car and sprayed some paint and clear.

As the car was in the process of drying i started bolting the wheels on and messing with the suspension to get as much camber as i could squeeze out of it and get as close as i could to the suspension.

(excuse the dirt in the pic as this was taken after the wekfest trip-2000miles of dust and rain driving)
The car was finally dry enough to handle so i started putting all the parts back on. (trunk, tailights, moldings etc) Now the front of my car was still all apart from earlier in the week. (No bumper or fenders on the car) It was already 4pm and i had to leave to go get an allignment done in time. I drove the car to get aligned with the whole front end still off the car. (1 hour late)


Thalmans in Northbrook,IL -Best place to get your car aligned.
The alignment went smooth so i headed back to work on the car. I got back to the shop and for the next 5 hours reinstalled all the parts (interior, front end) then wet-sanded and buffed sections of the car. Got everything ready to go at 2am.
Now i still had to pack clothes and tools for the trip so needless to say i got about an hour of sleep that night.
6am and we were on the road. Heres a couple of shots driving to new york

The Roads to new York were fantastic. Ohio and Indiana had some rough parts and most of Pennsylvannia was great. Towards the End of PA, I hit a truck tire up in the Poconos which cracked one of my bumper support bars (not visible) and also tore off my  Border rear valence. I tried to find the valence on the way back with no luck.
So for those wondering why my rear was missing a valence on the passenger side at Wekfest, now you know.)
With enough crap that happened i was ready to knock out but we still had some of new york to drive through. As soon as we hit New York the roads became awful-Tons of random dips in the highway. At this time it was night and it was becoming hard to see them. As we got close to where we were staying, we all hit a huge bump at which point i knew something got messed up. I didn't know what but the bump felt so harsh that i thought it would kill my shocks. I kept driving as i wanted to get some rest. When we pulled into our friends house. I took a look around the car and found a nice chunk of my front passenger fender missing.


(fiberglass chunk missing and big dent towards bottom of fender-hard to see)
At this point i was kind of upset but didn't really care anymore as my body was exhausted i knew i could fix it to look decent but just wanted to get some rest.
Saturday Came and i began work on the fender. Now besides the chunk missing, the fender got dented  pretty good With limited tools i wasn't able to pull the fender out perfectly to where i had it so i just aimed to make it look good I went out and got some Bondo to do a quick fill and fix.

Now at this point i had some touchup paint on me that i brought for the trip, to cover rock chips etc My buddy Clive, whose house we were staying at, happened to have an old airbrush gun laying around for model cars. So i decided to give it a shot.

Followed that up with a couple coats of spray can clear.


Not too bad….
Now Saturday Night we had the Wekfest Premeet with the SNTRL guys. On the drive there and the drive around times square the fender got beat again. It wasn't as bad, but with the back of the fender bent out of shape and not fully/properly corrected every right turn the tire started clipping the fender..I decided to not care about it and enjoy Times square as much as i could. Big shout out to the SNTRL guys, Myself and everyone from Chicago had a blast on that cruise. Pics can be seen on their facebook Page. http://www.facebook.com/SNTRL
Now the Next Morning once i got to Wekfest i did another quick fix. Pliers- bondo- touch up paint-sticker.
The cars final look at the show.
Heres a couple of shots some of the photographer snapped of my car that went viral.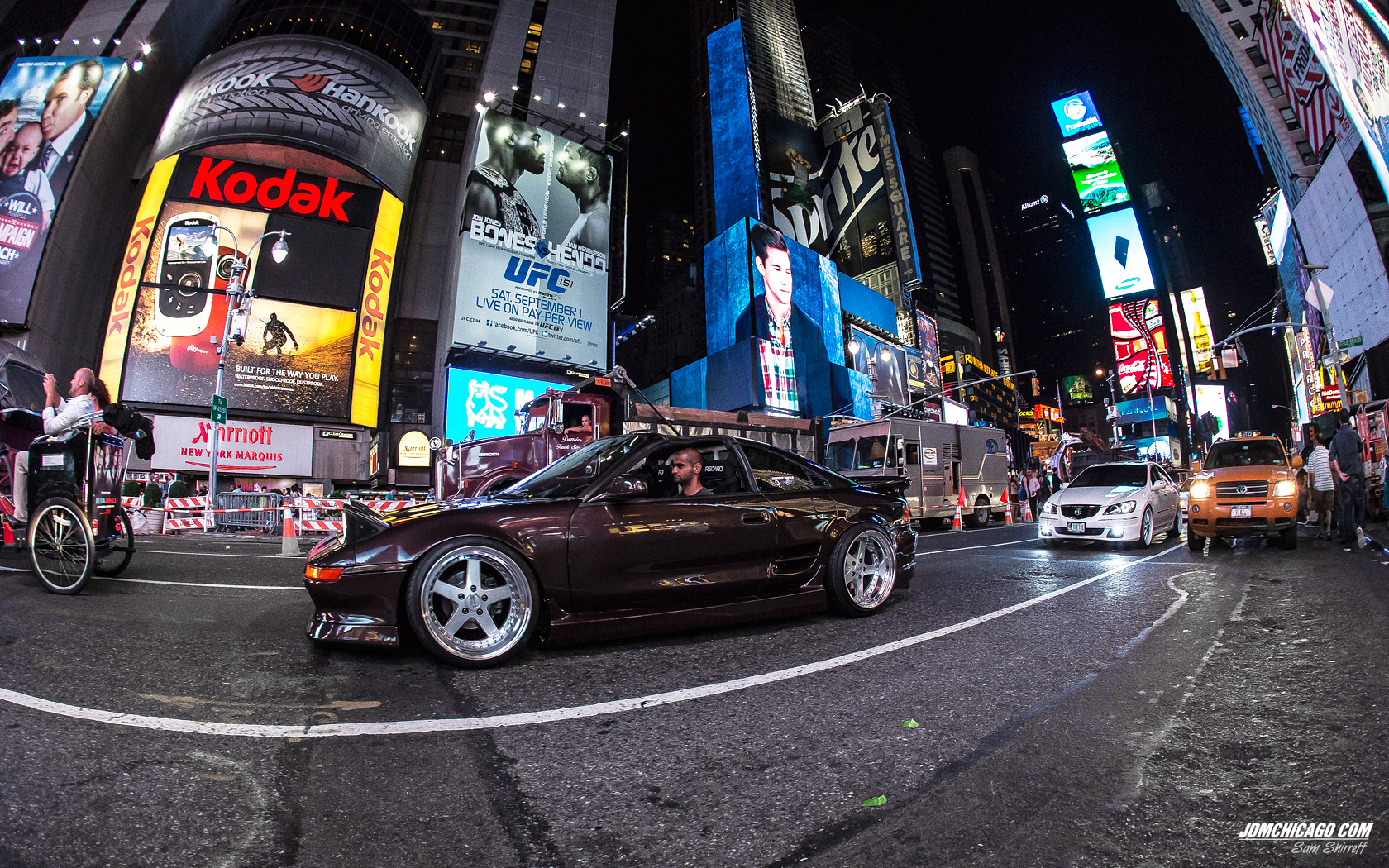 Again big thanks to everyone who helped me out with this whole trip. Everyone i rolled to NY with with. (Angela, Clive, Lori, Christine, Gene, Ray, Rob, Juliana) Also big thanks to Clive's family for letting us crash there and use the garage/tools.
The fitment talks with Armand, huge thanks. Leo @ Great Lakes Autobody always helping out. If you need any bodywork/paint in the midwest Leo is the man to see. Thanks to all the Photographers who took pics and all the Blogs sites involved. (Sntrl, Jdmchicago,stickydiljoe etc)
It was nice meeting all the people at Wekfest. (too many to list)
i usually don't write blog posts, if anything it's usually all pics with a few words. This one has a story to it though lol.